Seal-Once® Eco-Friendly Waterproofers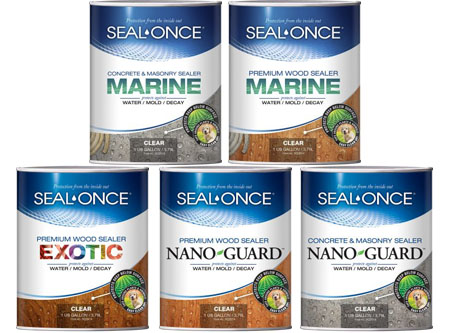 Seal-Once® waterproofers are advanced aqueous formulas designed for waterproofing wood, exotic wood, concrete and masonry and composite decking. Seal-Once provides years of protection and does an exceptional job of limiting moisture ingress, as well as reducing fungal and microbial attack by reducing available moisture. Seal-Once is colorless and will not discolor wood, concrete or masonry. Seal-Once is available in clear and semi-transparent tinted formulas. Also available as Industrial Multi-Surface Concentrate
Contains no toxins or heavy metals
Seal-Once does not contain nitrates or phosphorous compounds. Seal-Once also does not contain any aluminum, arsenic, barium, cadmium, chromium, copper, lead, mercury or other heavy metals. It does not contain silica. There is an internal chemistry which is designed to facilitate bonding to wood and cementitious substrates.

Approved safe for use over fresh and saltwater
When Seal-Once dries on a substrate, it does not leach out or become hydrolytically unstable, however it may be removed by wearing the substrate away or by application of strong oxidizers. Seal-Once is approved by the State of N.H. Department of Environmental Services (DES) for use over water. Marine formulas for wood and concrete and masonry applications are available.
For best results, all surfaces should be cleaned before sealing for best penetration and performance of a coating. To remove algae, grime, mildew, effloresence etc., we recommend Seal-Once® All Wood Cleaner for wood and Seal-Once® Concrete Masonry Cleaner for concrete. Pressure washing is recommended.
---

Recommended Usage
Wood (all types)/Composite
Decks, Fences, Docks, Piers, Shingles, Shingle Siding, Wood Playgrounds, Planters, Furniture, Cedar Siding, Roofs
Concrete
Walkways, Driveways, Curbs, Steps, Ramps, Chimneys, Platforms, Loading Docks, Ramps, Floors, Parking Decks
Other: Stucco, Brick, Tile (Unglazed), Limestone, Granite, Slate, Gravestones
Features
Water-Based and Non-Flammable
Contains No TAPS/HAPS (Toxic/Hazardous Air Pollutants)
VOC Content N/A, Non-Ozone Depleting
Not Regulated by Authorities for Worker Health and Safety
Not Regulated by Authorities for Transportation and Storage
Will Not Harm Fish, Plants, Pets or Livestock
Will Not Burn Skin; Odorless
Safe for Use Over Fresh and/or Saltwater
Benefits
Reduces Fungal Microbial Attack
Will Not Discolor Wood or Masonry Surfaces
UV Transparent, Paintable or Stainable
Excellent Durability to Weathering
Excellent Longevity, Preserves Wood
Reduces Spalling and Cracks Caused by Moisture
Outperforms Other Sealers and Stains
Cost Effective
Seal-Once Waterproofer
Item #
Size
Seal-Once Waterproofer
Item #
Size
Total Wood Protection

SE-7214

1 Gal.
Marine Wood
SE-7614
1 Gal.

SE-8214

5 Gal.
SE-8614
5 Gal.
Exotic Wood Protection

SE-7414

1 Gal.
Marine Concrete/Masonry
SE-7514
1 Gal.

SE-8414

5 Gal.
SE-8514
5 Gal.
Concrete/Masonry

SE-7314

1 Gal.

SE-8314

5 Gal.

Download SDS